Organically Grown Seedlings
April 16, 2017
Spring has sprung! After a beautiful week of sunny weather, the cool season vegetable plants are ready to be planted. Lettuce, cabbage, kale, Brussels sprouts and broccoli are all out for you to choose. We may also have basil and parsley plants available soon.
Warm season vegetables - tomatoes, peppers, cucumbers, squash and a few melons are coming along nicely. Looks like they will be ready in early May.
New nursery stock is arriving every week. Most of the evergreen, shade and ornamental trees are here. Shrubs and perennials are arriving almost every day. At the moment, we're less than organized, but we can usually find what you're looking for - just ask! (
Contact Deal's
)
The reconstruction of Dayton-Xenia Road continues! Check our blog page for updates or visit the
Beavercreek, Ohio, website
.
Hope to see you soon!
Seed Savers Seeds
January 12, 2017
Warmer wet weather feels a lot like spring! It really will be here before we know it. Our
Seed Savers Exchange
seeds have arrived, just in time to get a head start on your gardens.

Many seeds in our selection are certified organic.

Here's an abbreviated list of what we have available…
Arugula
10 varieties of beans, broccoli
2 types of beets
Red and green cabbage
Corn
2 varieties of carrots
A medley of cucumbers, endive, eggplant, ground cherry
A multitude of herbs
3 types of kale
Leeks
5 varieties of lettuce
Melon, onion, peas, peppers, radishes, and spinach
A collection of 8 squash
Swiss chard
An assortment of tomatoes, turnips and watermelon.


Stop in soon for the best selection.
Organically Grown Veggie Seedlings
January 01, 2017
We're thinking about what varieties of veggie seedlings to start - what would you like us to grow organically? We welcome your thoughts and suggestions.
Contact Deal's soon!
Spring Planning
October 02, 2016
Yes, spring is many months away, but this is a great time to start thinking about your yard and landscape in 2017.
Contact Deal's
for help and suggestions for next year's landscape, yard, and gardens at your home.
Organic Earth Updates
August 04, 2016
We're busy applying the second round of Liquid Seaweed to your yard!
Brown Patch Fungus has caused some concerns this year - the humid weather along with all the rainfall has created conditions where the thatch and grass remain wet for extended periods, which is great for fungus but not for your yard.
BPF rarely does any permanent damage and intervention is not needed, BPF will die out as the weather becomes less humid and we approach fall.
Organic Earth's
Seaweed Spray provides plant sugars that promote the growth of microbes that feed on fungus.
If you're using irrigation systems, you should reduce how often they run. Too much water can be bad for your lawn and landscape, leaching out important soil nutrients and depriving plant roots of oxygen.
Early Spring Starts Ready to Plant
April 10, 2016
We know it seems like winter will never end, but this week sounds like the
real
beginning of spring. We have organically grown early spring vegetable starts ready to plant.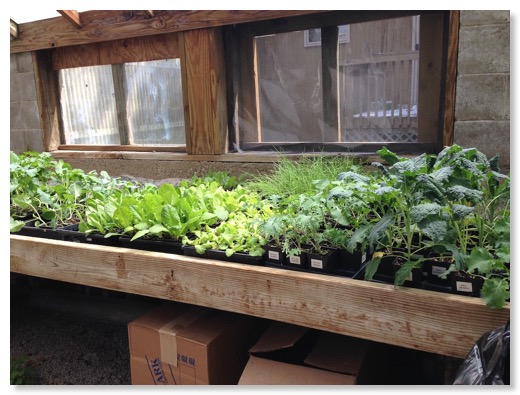 Five types of kale: Lacinato, Scarlet, Red Russian, Dwarf Blue Curled Scotch and Smooth German
Four types of lettuce: Red Leprechaun, Ella Kropf, Yugoslavian Red, and Blushed Buttercos
Three types of Broccoli: Waltham, De Ciccio, and Romanesco; Copenhagen Market Cabbage
Other seedlings ready to set out: Italian Plain leaf and Curled Parsley, Chives, Celery, and Yellow of Parma Onion plants.
In limited supply - We still have Desiree, Yukon Gold and La Ratte seed potatoes.
Seed Savers Spinach, Beet, Radish, and Pea seeds are all ready for cold weather sowing.
Hope to see you soon!!!
Organically grown seedlings are almost ready
March 29, 2016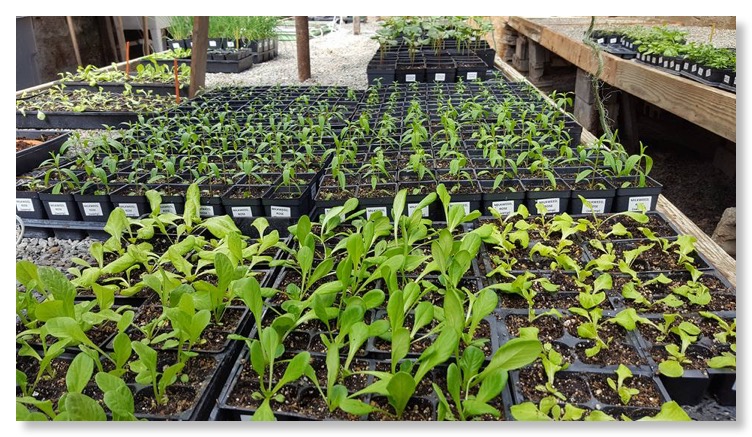 Lacinato Kale, Yellow of Parma Onions and 2 or 3 types of lettuce are ready for sale. The lettuce is a little small yet, but I planted some at home and they've grown just fine through the storms and cold the last few days.
Organic Seed Potatoes are here
March 15, 2016
Organic seed potatoes are here!
This year's selections include:

Desiree
Popular mid-season variety from Holland. Smooth red skin and deep golden inside. Moist, creamy texture with a delicate flavor. Reliable and easy to grow. An excellent choice for a general cooking potato.

La Ratte (fingerling)
Long prized by French chefs. Highly recommended and an absolute delight to cook with. Long, uniform tubers with yellow flesh and a firm texture and a nice nutty flavor. Holds together very well. Especially good for potato salad or boiled.

Yukon Gold
Smooth, thin yellow skin with creamy yellow flesh. Stands up well to any kind of cooking, baking, frying, mashing and salads – dry heat or moist. Sweet tasty potato that stores very well
Organic Veggie Seedlings
March 04, 2016
Deal's will again offer organically grown veggie seedling this year. Watch for a list of available seedlings in the next few weeks.