Construction Update
November 17, 2017
Starting today (11/17) and potentially lasting through next Wednesday (11/22), we will have only one entrance. The road crew has removed the western entrance, but that will reopen as soon as road paving is finished. Paving is scheduled to start on Monday; the western entry should be reopened by Wednesday, if not before. The east entry will remain open, although it seems to move a bit one direction or another every other day! It will be great when it's finished.
In the mean time, we would like to express our deep thanks for your patronage, your patience, and your determination to visit see us!
Enjoy your Thanksgiving!
Cut Christmas Trees
November 17, 2017
HO! HO! HO!
Our crew will be setting up cut Christmas Trees on Wednesday, November 22.
Call ahead and we'll let you know when the size and variety of tree you're interested in will be available.
Candycane Icespice
Find Your Christmas Name
November 17, 2017
From Candycane Icespice (AKA, Cheryl)
Find your own, special Christmas Name
here
!
Holiday Planning
November 07, 2017
"Tis The Season"
very soon!
As usual, our crew will be bringing in our cut and live Christmas trees just before Thanksgiving. We will be set up for sale on the Friday after Thanksgiving.
Call soon - (937) 426-2118 or
contact Deal's
- if you would like to order handmade wreaths or grave blankets. Remember, we also do holiday decorating!
We can provide both interior and exterior trimming (roping, wreathes, lighting) expertly installed for your holiday spirit!
Another Construction Update
November 07, 2017
OUR SIGN IS BACK!
It is much shorter and still needs work, but at least we have a sign again!
As far as the road construction goes, the road crew will hopefully have our side of the road paved with the base coat of asphalt before the winter closes in. Fingers are crossed.
Trick or Treat!
October 26, 2017
Beggar's Night in Beavercreek is Tuesday, October 31 - 6:00 PM - 8:00 PM.
Click here
for other Dayton area Trick or Treat Beggar's Nights and some safety recommendations.
The October 31 weather forecast is for low to mild temps with mostly clear skies - but this is a week out, so there's no guarantee!
Holiday Greens
Deal's will have a large selection of Christmas Trees, both cut and live, as well as fresh cut greens and our famous custom wreaths, roping, and grave blankets starting in mid-November. Please call or
contact Deal's
for more information.
Construction Update - October
October 19, 2017 Categories >>
Dayton-Xenia Road Construction
The Dayton-Xenia Road Construction Project continues!
We really do appreciate your patience and continued support of Deal's Landscape Service.
Note from Cheryl…
A determined customer, who came in to buy a couple of bales of straw, told me he had passed our place three times, turned around and came back until he figured out how to get in. All I could do was tell him thanks for being persistent!
After talking to one of the road crew guys today, it sounds like they are hoping to have the soil stabilized, the curbs in and the initial asphalt down before Thanksgiving. The asphalt plant shuts down for the winter just before Thanksgiving. So, whatever we're left with at that point, sounds like we will be dealing with when spring comes along next year. Not looking forward to that at all. Both entrances are open now with gravel "bridges" across a "moat" of destroyed road that has been hauled away.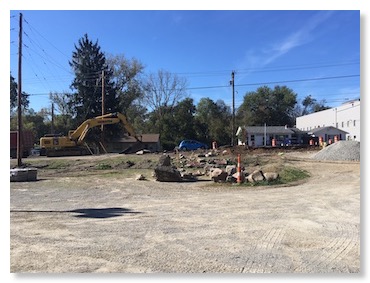 Fall Cleanup
Fall is a great time of year to think about your landscape and home maintenance needs.

Clean gutters and downspouts
Blow leaves and other debris off your roof
Clear landscape lawn and beds of leaves and other debris
Check windows and doors for air leaks - caulk or insulate
Fireplace? Make sure the damper can be completely closed
Check any outside lighting fixtures - clean and update lamps with LED lights
Check smoke detector batteries

Fall Landscape Planning
Fall is a great time of year to review your home's landscaping. What maintenance or updating will help improve your home's "curb-appeal" and the personal enjoyment of your family? Your home's outdoor living environment can be just as important as its interior design.

Contact Deal's to help you develop a landscaping plan for your family!

Deck Your Halls!
September 19, 2017 Categories >>
Holidays
| Holiday Planning
| Deck Your Halls
The winter holidays are a special time of year. Family and friends gather together in celebration. Seasonal decorations can help you share your love and joy during this magical time of year.

Deal's can help you plan both inside and outside decorations - greens, LED lighting, Christmas trees, wreaths, and grave blankets. Please contact us for assistance in decking your halls!

Winter Safety
September 18, 2017 Categories >>
Snow Removal
Yes, any snow is probably a couple of months away, but the
Farmers' Almanac 2018 Winter Outlook
is predicting a cold winter, with average snowfall, for SW Ohio.
Be prepared! When snow and/or ice covers your driveway or business parking lot, you need to have them made safe and clear.
Contact Deal's
for Snow Removal assistance.