Monarch Butterflies
June 07, 2017
We're the proud parents of newly arrived Monarch butterfies!
This photo was taken today on the milkweed planted last spring near the office garden. This monarch butterfly seems to be waiting for the flowers to open. Won't be long.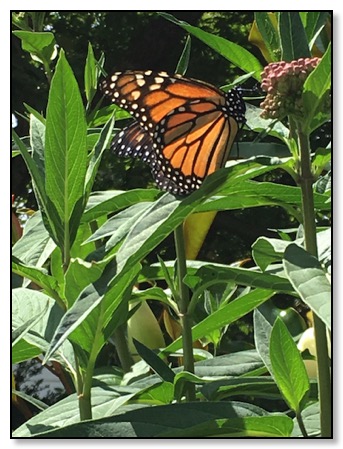 Construction Update
June 07, 2017
We have an update on the Dayton-Xenia Road closure. The tentative 10 day closing date is July 10th. Signs giving the actual closure dates will be posted as soon as the date is firm. You can always call out office for the current information. We will let you know the current road status.

Bagworms
May 27, 2017
Bagworms eggs have hatched in our area.

It's time to control tiny bagworms with BTK. That's an abbreviation for Bacillus thuringiensis var. kurstaki, which is a naturally occurring biological insecticide sold under the name of Dipel or Thuricide.

It must be ingested by the young critters to be effective, so be sure to reapply if we have rain. A second application is recommended. This material is not very effective once the bagworms get a little larger, so be sure to apply soon.
Monarch Butterflies
May 22, 2017
We planted milkweek last year from seed started in our greenhouse in March, 2016. We have Monarch caterpillars! Five, so far!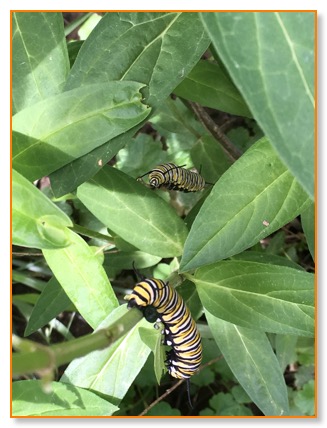 Dayton-Xenia Road Construction Update
March 22, 2017
Just heard back from the city with an update on the road work and closure.
At this time it looks like the road will not be closed until after June 1. Until then, there will be periodic disruptions, but no closures.

The gas lines are just starting to be relocated, which will take about a month.

Near the end of April, the electric, phone and fiber lines will be relocated which will also take about a month.

Once that is accomplished the road will be closed for a period of about ten days at the eastern corner of our property. This is to replace the culvert for the creek that runs through our property. After that, at least one lane of traffic, and usually 2, will be open, but with periodic delays.

In the meantime, if you would like to know the road conditions at the moment for a planned trip to visit us, just call our office and we will walk outside and give you as much of an update as we can see in both directions.

Think Spring!

Hope to see you soon.

Seed Potatoes and Asparagus Roots
March 14, 2017
Seed Potatoes
Just arrived! Certified Organic seed potatoes. This year our choices include Purple Viking, Red Gold and Yukon Gold.

Asparagus Roots
Also new this year, we have Jersey Supreme Asparagus roots in stock. These are one year crowns, however they are conventionally grown rather than organic. So far, we haven't found a good source for organic asparagus roots. As soon as it warms up a bit, it will be a great time to get the asparagus in the ground. Shortly after that, it's potato planting time!

We will get updates on greenhouse grown organic vegetable seedlings as they come along. The cold weather has slowed them down quite a bit, but eventually they'll catch up.

Hope to see you soon. We'll update our Deal's Blog page often as we move into spring!
Road Construction
February 11, 2017
As you may know, the road in front of Deal's will be widened this year. We don't have a firm start date yet, but the first thing scheduled is replacement of the culvert at the east corner of our property. This stage of the construction will result in the road being closed. During that time our western most, uphill, driveway will remain open but the eastern drive will likely be blocked with equipment.

Our mulch piles will be relocated. So, mulch (and anything else we have) will still be available through the whole construction project.

Our sign will also be relocated. Hopefully, we will be able replace it with something as close to the existing sign as possible. Keep your fingers crossed!

We will post updates as we know more. Keep checking back.
Winter Maintenance
January 12, 2017
Beavercreek's winter has been fairly mild so far, but this is not the time to ignore your landscape, particularly if you added new plants this past fall or a new live Christmas tree. Adequate watering is necessary over the winter months for your landscape. Dorment plants, old or new, require watering to survive the winter. Have questions?
Contact Deal's
if you have questions or need help.

Seed Savers Seeds
January 12, 2017
Warmer wet weather feels a lot like spring! It really will be here before we know it. Our
Seed Savers Exchange
seeds have arrived, just in time to get a head start on your gardens.

Many seeds in our selection are certified organic.

Here's an abbreviated list of what we have available…
Arugula
10 varieties of beans, broccoli
2 types of beets
Red and green cabbage
Corn
2 varieties of carrots
A medley of cucumbers, endive, eggplant, ground cherry
A multitude of herbs
3 types of kale
Leeks
5 varieties of lettuce
Melon, onion, peas, peppers, radishes, and spinach
A collection of 8 squash
Swiss chard
An assortment of tomatoes, turnips and watermelon.


Stop in soon for the best selection.