Trees and Greens!
December 02, 2017
We still have a great selection of gorgeous cut Christmas trees and live trees in stock ready for your decorations!
We've just cut greens for handmade wreaths and grave blankets. Give us a call and we will let you know how soon we can get your orders ready.
Contact Deal's
or call us - (937) 426-2118.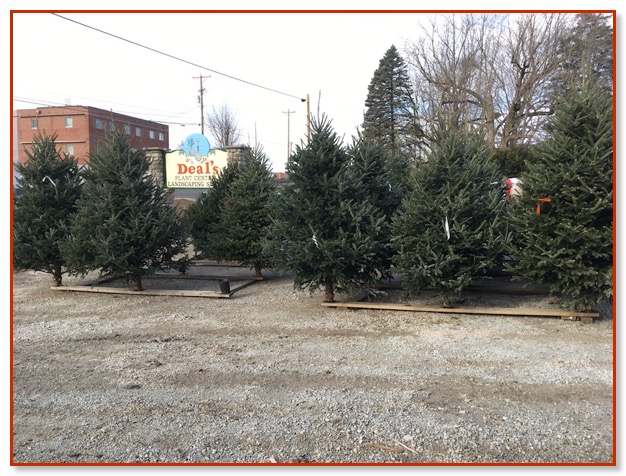 Cut Christmas Trees
November 17, 2017
HO! HO! HO!
Our crew will be setting up cut Christmas Trees on Wednesday, November 22.
Call ahead and we'll let you know when the size and variety of tree you're interested in will be available.
Candycane Icespice
Find Your Christmas Name
November 17, 2017
From Candycane Icespice (AKA, Cheryl)
Find your own, special Christmas Name
here
!
Holiday Planning
November 07, 2017
"Tis The Season"
very soon!
As usual, our crew will be bringing in our cut and live Christmas trees just before Thanksgiving. We will be set up for sale on the Friday after Thanksgiving.
Call soon - (937) 426-2118 or
contact Deal's
- if you would like to order handmade wreaths or grave blankets. Remember, we also do holiday decorating!
We can provide both interior and exterior trimming (roping, wreathes, lighting) expertly installed for your holiday spirit!
Holiday Greens
October 19, 2017
Deal's will have a large selection of Christmas Trees, both cut and live, as well as fresh cut greens and our famous custom wreaths, roping, and grave blankets starting in mid-November. Please call or
contact Deal's
for more information.
Deck Your Halls!
September 19, 2017
The winter holidays are a special time of year. Family and friends gather together in celebration. Seasonal decorations can help you share your love and joy during this magical time of year.

Deal's can help you plan both inside and outside decorations - greens, LED lighting, Christmas trees, wreaths, and grave blankets. Please contact us for assistance in decking your halls!