Construction Update
December 02, 2017
According to the road crew, they will be trying to get the road striped this week. Once that is finished, traffic will be moved to the newly paved surface on our side of the road. No more bumping up and down to come visit us! Our entrance will be much easier to find too. Hope to see you soon!
Construction Update
November 17, 2017
Starting today (11/17) and potentially lasting through next Wednesday (11/22), we will have only one entrance. The road crew has removed the western entrance, but that will reopen as soon as road paving is finished. Paving is scheduled to start on Monday; the western entry should be reopened by Wednesday, if not before. The east entry will remain open, although it seems to move a bit one direction or another every other day! It will be great when it's finished.
In the mean time, we would like to express our deep thanks for your patronage, your patience, and your determination to visit see us!
Enjoy your Thanksgiving!
Another Construction Update
November 07, 2017
OUR SIGN IS BACK!
It is much shorter and still needs work, but at least we have a sign again!
As far as the road construction goes, the road crew will hopefully have our side of the road paved with the base coat of asphalt before the winter closes in. Fingers are crossed.
Construction Update - October
October 19, 2017
The Dayton-Xenia Road Construction Project continues!
We really do appreciate your patience and continued support of Deal's Landscape Service.
Note from Cheryl…
A determined customer, who came in to buy a couple of bales of straw, told me he had passed our place three times, turned around and came back until he figured out how to get in. All I could do was tell him thanks for being persistent!
After talking to one of the road crew guys today, it sounds like they are hoping to have the soil stabilized, the curbs in and the initial asphalt down before Thanksgiving. The asphalt plant shuts down for the winter just before Thanksgiving. So, whatever we're left with at that point, sounds like we will be dealing with when spring comes along next year. Not looking forward to that at all. Both entrances are open now with gravel "bridges" across a "moat" of destroyed road that has been hauled away.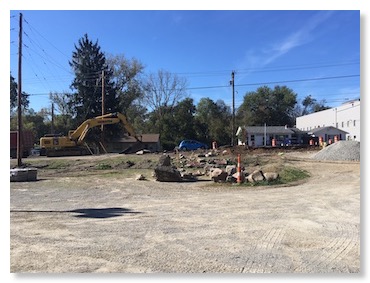 Construction Update
June 07, 2017
We have an update on the Dayton-Xenia Road closure. The tentative 10 day closing date is July 10th. Signs giving the actual closure dates will be posted as soon as the date is firm. You can always call out office for the current information. We will let you know the current road status.

Dayton-Xenia Road Construction Update
March 22, 2017
Just heard back from the city with an update on the road work and closure.
At this time it looks like the road will not be closed until after June 1. Until then, there will be periodic disruptions, but no closures.

The gas lines are just starting to be relocated, which will take about a month.

Near the end of April, the electric, phone and fiber lines will be relocated which will also take about a month.

Once that is accomplished the road will be closed for a period of about ten days at the eastern corner of our property. This is to replace the culvert for the creek that runs through our property. After that, at least one lane of traffic, and usually 2, will be open, but with periodic delays.

In the meantime, if you would like to know the road conditions at the moment for a planned trip to visit us, just call our office and we will walk outside and give you as much of an update as we can see in both directions.

Think Spring!

Hope to see you soon.