Fall Cleanup
September 18, 2017
Fall is a great time of year to think about your landscape and home maintenance needs.

Clean gutters and downspouts
Blow leaves and other debris off your roof
Clear landscape lawn and beds of leaves and other debris
Check windows and doors for air leaks - caulk or insulate
Fireplace? Make sure the damper can be completely closed
Check any outside lighting fixtures - clean and update lamps with LED lights
Check smoke detector batteries


Fall Landscape Planning
September 18, 2017
Fall is a great time of year to review your home's landscaping. What maintenance or updating will help improve your home's "curb-appeal" and the personal enjoyment of your family? Your home's outdoor living environment can be just as important as its interior design.
Contact Deal's
to help you develop a landscaping plan for your family!
Fall Lawn Maintenance
September 18, 2017
Your yard needs some help to get ready for the fall season - and to be ready for next spring.
Core aeration, fall
Organic Earth and Lawn Care
applications, and over seeding will help guarantee a strong and healthy lawn in the spring.
Contact Deal's
for help with planning your lawn maintenance program.
Fall Planning
July 15, 2017
Hard to believe, but we're all ready at mid-summer. This is great time to start thinking about fall landscape updates.
Autumn is a great time to add trees, shrubs, and perennials to your landscape - or a time to replace overgrown/worn out specimens. Early planting allows plantings to become well established before winter, ready for the growth spurt of next spring.
Need help with planning your landscape update?
Contact Deal's!
We'd love to visit your home and suggest updates/improvements for your home's landscape.
Landscape Cleanup
October 02, 2016
Fall has arrived! That means that leaves are coming down, burying your yard and landscape. Contact Deal's for leaf removal and general cleanup of your landscape, not to mention preparation for winter and next year's garden wakeup.

Fall Planning
August 25, 2016
Fall is a great time to refresh your landscape with new plantings - as well as preparing your landscape for winter. Check for dead stems and branches or overgrown shrubs.

This is the time to think about adding new spring flowering bulbs to your garden. Who doesn't enjoy the sight of of crocuses and snowdrops pushing up through any late season snow? Followed, of course, by daffodils, tulips, and many other spring flowers.

Fall Lawn Maintenance
August 04, 2016
Yes, it's still the first of August, but you should begin to plan for next year's lawn! Deal's is now scheduling fall aeration and over-seeding. Regular aeration and over-seeding are essential to maintaining a thick, weed free lawn on an Organic program. Aeration allows improved water and gas exchange; it destabilizes the soil, making room for fresh root growth.
Also, if you're using Corn Gluten pre-emergent weed control late fall and next spring, aeration will greatly improve weed control in your lawn.
Please
contact Deal's
for more information!
Make a new landscape focus
July 21, 2016
Have an ughly spot in your landscape? This homeowner had a muddy spring - Deal's made it an awesome addition to their landscape.
Before: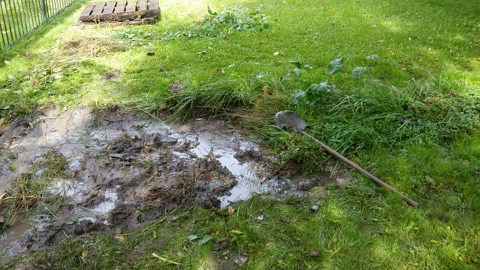 After: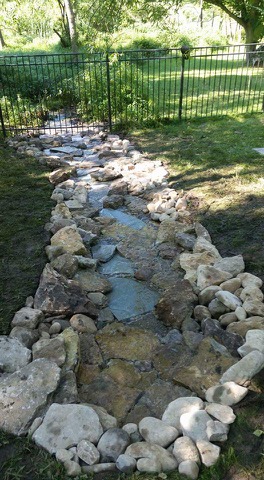 We changed a muddy run into an attractive water accent in their landscape.
Contact Deal's
if you have a landscape problem, we can help you turn a problem into an asset!
Think Spring!
March 04, 2016
This is a great time to start thinking about your landscape maintenance needs for 2016. Deal's offers a full line of very affordable landscape maintenance programs including
Organic Earth & Lawn Care™
. Our
Organic Earth™
program has a proven track record of earth-friendly turf and garden enrichment and maintenance. Want to learn more?
Contact Deal's