Nature in Your Garden
October 22, 2016
A couple of photos by Cheryl…
Honey Bee on Golden Rod in my garden…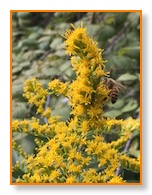 Praying Mantis egg case found on Pimiento Pepper plant - I'm not sure if I should eventually cut the stem of the pepper plant and wire the egg case to an evergreen branch for winter protection, or not. Will have to do some research. I could just leave the plant in the garden all winter. Not sure which would be best.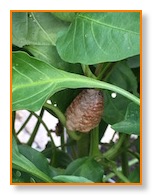 Spring Planning
October 02, 2016
Yes, spring is many months away, but this is a great time to start thinking about your yard and landscape in 2017.
Contact Deal's
for help and suggestions for next year's landscape, yard, and gardens at your home.
Winter Planning
October 02, 2016
Winter's coming! Cold temps, ice, snow, and generally yucky conditions making paths, sidewalks, and driveways a mess.
Contact Deal's
to schedule snow removal for your home or business. Deal's offers seasonal contracts or on-call snow removal.
Holiday Planning
October 02, 2016
Hard to believe, but the holiday season starts in just a few weeks - Thanksgiving, Black Friday, Christmas, and New Years. Deal's can help you decorate you home for the holidays - live and cut trees, roping, grave blankets, and home lighting. Want to
know more
?
Contact Deal's.
Landscape Cleanup
October 02, 2016
Fall has arrived! That means that leaves are coming down, burying your yard and landscape. Contact Deal's for leaf removal and general cleanup of your landscape, not to mention preparation for winter and next year's garden wakeup.