Organically grown seedlings are almost ready
March 29, 2016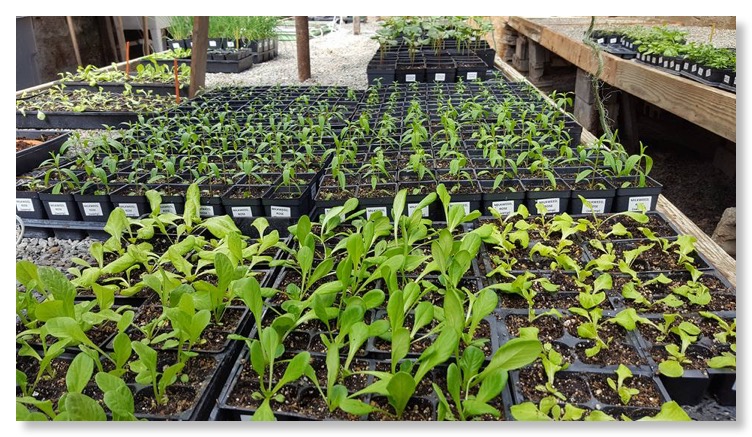 Lacinato Kale, Yellow of Parma Onions and 2 or 3 types of lettuce are ready for sale. The lettuce is a little small yet, but I planted some at home and they've grown just fine through the storms and cold the last few days.
Organic Seed Potatoes are here
March 15, 2016
Organic seed potatoes are here!
This year's selections include:

Desiree
Popular mid-season variety from Holland. Smooth red skin and deep golden inside. Moist, creamy texture with a delicate flavor. Reliable and easy to grow. An excellent choice for a general cooking potato.

La Ratte (fingerling)
Long prized by French chefs. Highly recommended and an absolute delight to cook with. Long, uniform tubers with yellow flesh and a firm texture and a nice nutty flavor. Holds together very well. Especially good for potato salad or boiled.

Yukon Gold
Smooth, thin yellow skin with creamy yellow flesh. Stands up well to any kind of cooking, baking, frying, mashing and salads – dry heat or moist. Sweet tasty potato that stores very well
Lawn Maintenance
March 09, 2016
Time for Spring Lawn Maintenance


Your lawn probably needs some help getting ready for the new growing season!
Depending on your lawn's needs, Deal's might recommend:
Core aeration
Over seeding
Corn Gluten for weed control (being applied early this year due to the mild winter)
Organic Earth and Lawn Care
service to help keep your lawn looking great all summer.
Check your lawn mower for the proper mowing height. Also perform any needed maintenance, especially making sure the blade is sharp.
Be sure to give us a call at (937) 426-2118 to request an estimate and get on our schedule for spring yard work.
You can also
contact us
on our website.
Spring is Here!
March 08, 2016
Spring has suddenly sprung!
Business is hopping here at Deal's. We have new deliveries of many of our organic bagged products and soon more plants will be rolling in. Truckloads of bulk mulch and soil are already here.
Watch for a list of vegetable plants that will soon be available for early planting!
Be sure to give us a call at (937) 426-2118 to request an estimate and get on our schedule for spring yard work. You can also
contact Deal's
on our website.
Spring officially arrives in Beavercreek on March 20, 2016, at 12:30 AM.
Organic Veggie Seedlings
March 04, 2016
Deal's will again offer organically grown veggie seedling this year. Watch for a list of available seedlings in the next few weeks.
Think Spring!
March 04, 2016
This is a great time to start thinking about your landscape maintenance needs for 2016. Deal's offers a full line of very affordable landscape maintenance programs including
Organic Earth & Lawn Care™
. Our
Organic Earth™
program has a proven track record of earth-friendly turf and garden enrichment and maintenance. Want to learn more?
Contact Deal's
Snow Removal
March 04, 2016
Winter is approaching! The prediction for this area is that we'll have a mild winter. Even so,
contact Deal's
for our snow removal service. Seasonal contracts are available.
Welcome!
March 04, 2016
Welcome to Deal's new website! We've been working very hard to upgrade the Deal's Landscape website to work with smart phones, tablets, and desktop displays.
Find a problem with a page? Please let us know the particulars!
Contact Deal's